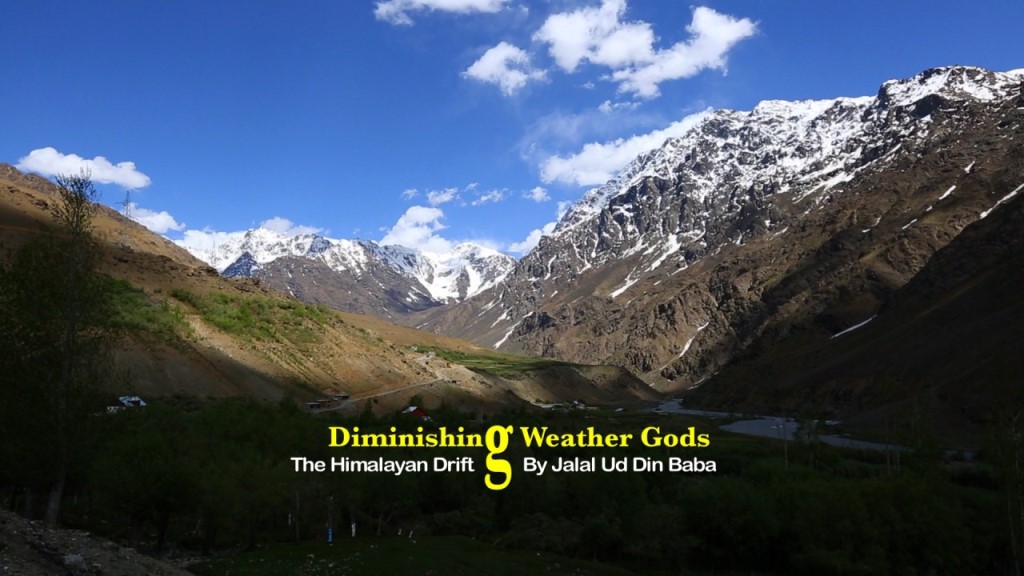 Diminishing Weather Gods: CMS VATAVARAN 2019 Nomination Series
In India, especially in the hill states, significant variation in the state of the climate is happening and persisting for an extended period. (typically decades or longer)
It may be due to natural internal processes or external forcing or persistent anthropogenic changes in the composition of the atmosphere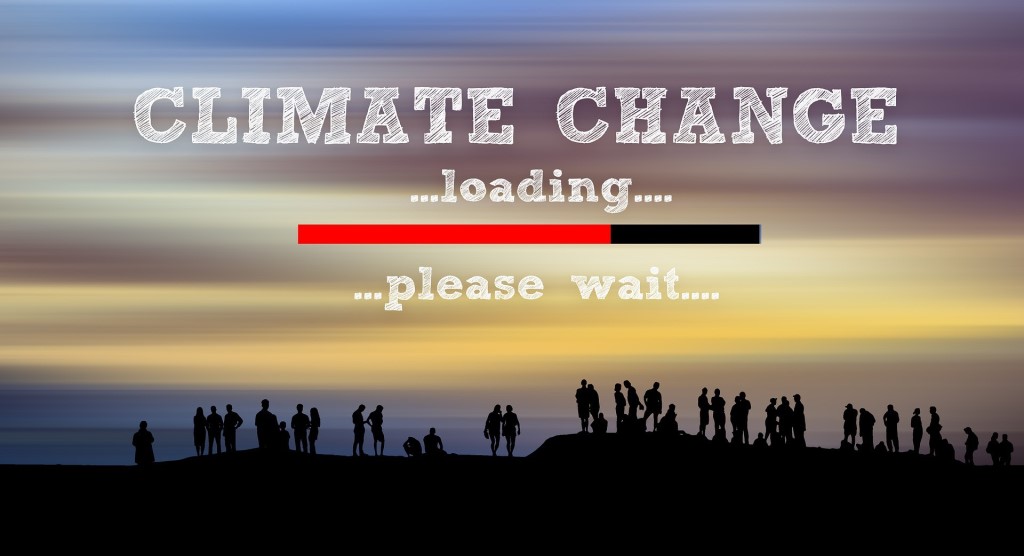 Greenhouse gases like CO2, CH4, N2O, water vapours and ozone re-emit some of solar radiations in the form of short wave radiations to the earth surface and responsible for its warming.
If they did not perform this useful function, most of the heat energy would escape, leaving the earth cold and unfit to support life.
However, since the Industrial Revolution began about 150 years ago, man-made activities have added significant quantities of GHGs to the atmosphere.
The atmospheric concentrations of CO2, CH4, N2O have grown by about 31%, 151% and 17%, respectively, between 1750 and 2000.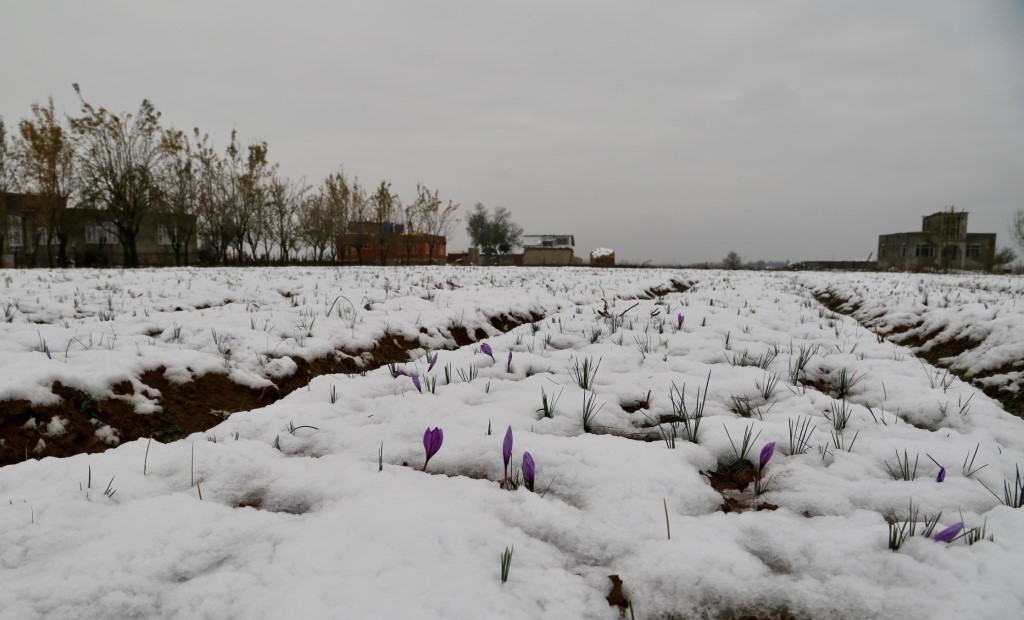 Twenty years ago snowfall was regular phenomenon in the high hills of India but in the last 20 years, only 2-3 instances of snowfall have been recorded.
It has been recorded that the average maximum temperature rose by 0.58 degree celsius from the year of 1963 to 2007, whereas, the average minimum temperature rose by 2.75 degree Celsius.
Though, Kashmir is well known for apple cultivation, but due to inadequate snowfall and improper chilling hours the cultivation of apple in the region has been severely impacted.
Chilling affects the flowering and subsequent fruit setting qualitatively as well as quantitatively.
It has been proven that the rain and hails during flowering adversely affects the fruit set, whereas, moderate temperature of 20 degree Celsius with relatively low rains during flowering results in the good fruit set.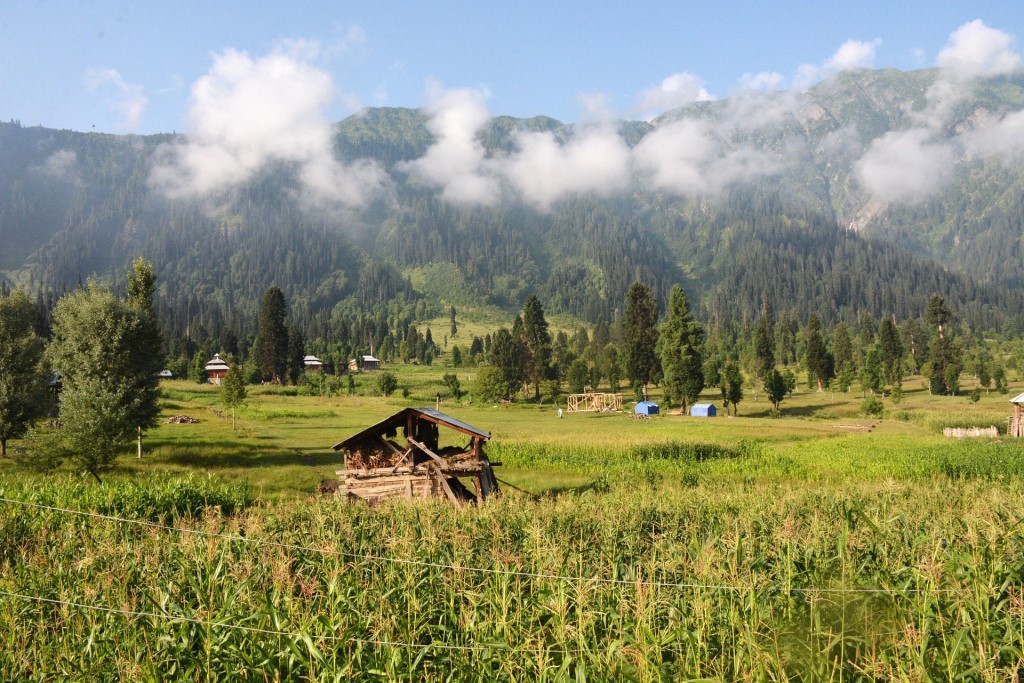 There has been a drastic reduction in apple yields across the farms of Kashmir.
About 80% of reduction in yield is estimated due to irrigation water shortage and 20% due to high evaporation rate in apples.
Most of the apple varieties require 1000-1600 hours (at or below 7.2 degree celsius) of chill units depending upon the variety.
Kashmir has always seen a certain kind of weather. Summers here are historically mild, with predictable rainfall, while winters are cold, with plenty of snow.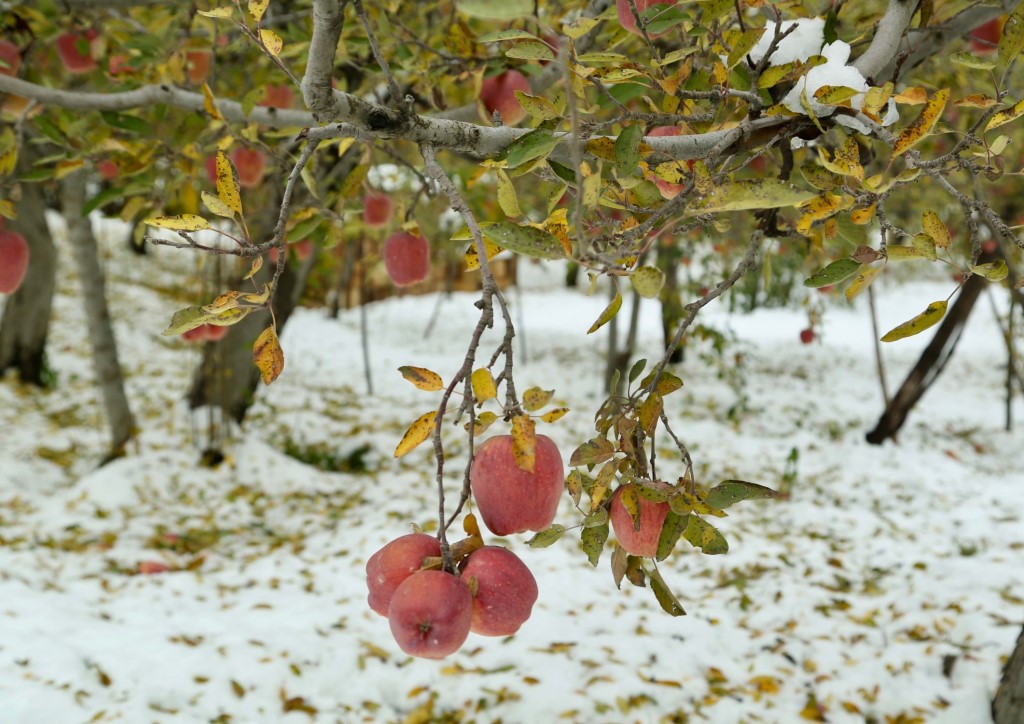 These conditions are perfect for apple trees, which have flourished here decades. The fruit has proved a lucrative outlet for local farmers, a cash crop in a region once dominated by lesser-earning produce.
Still, in recent years, the climate that once convinced farmers to plant apple trees here has become noticeably less hospitable.
Global warming is disrupting the region's once-predictable weather patterns, triggering rising temperatures and erratic precipitation. That, in turn, has led to an increase in pests and disease, which many farmers have sought-begrudgingly, in some cases--to combat with pesticides and chemical fertilizers.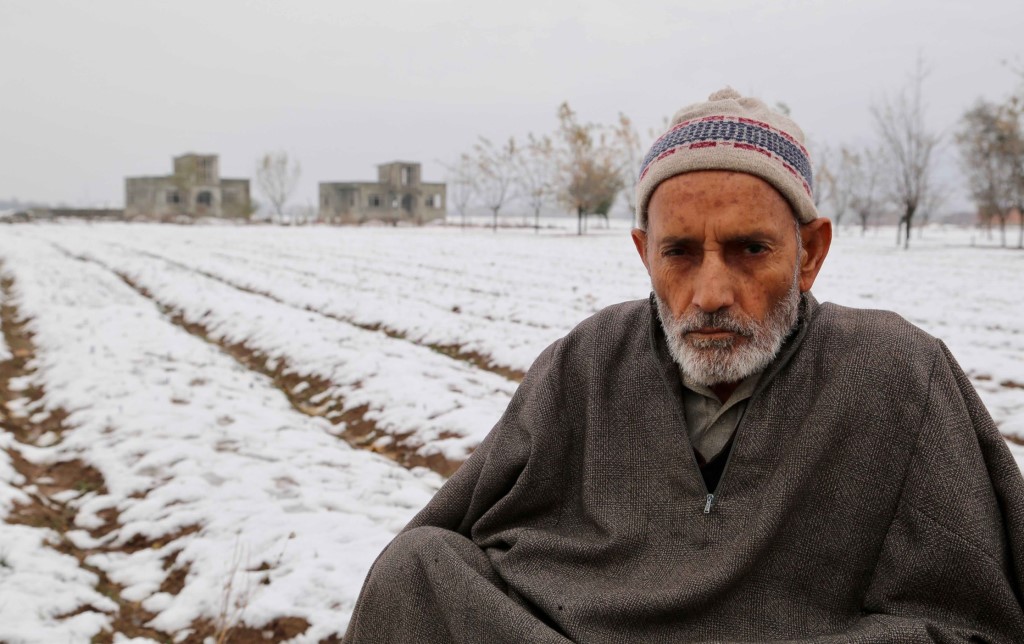 Mohammad Yousuf Wagay, (50 year old) apple orchardist from Amreshpora village in Shopian, had never ever imagined in his wildest dreams that someday the nature's furry is going to struck his apple orchards with devastating snowfall with enormous economic costs. On 2nd November 2018 the Kashmir valley received the season's first snowfall after nine years in the month of November. Although the early onset of snowfall means glaciers got replenished faster and the distinctive icy winter of Kashmir can be experienced for longer. But untimely heavy snowfall has brought a catastrophic disaster for Kashmir's apple and Saffron industry, the backbone of the state's economy.
Yousuf and his 24 member labor force team, were quite busy in harvesting the red apples from the golden turned apple tree's with much ease, with uniform pace and speed from mid October and were targeting to complete the harvesting job by mid November. But there was something harsher and unbelievable in store, in a few hours time, everything crashed so fast and unpredicted that there's hardly anything left to fallback. All the apple crop was either caught naked, hanging with fallen tree branches coated in white snow and withering in freezing cold or the rest had fallen under one and half feet snow layer as a collateral damage, debris.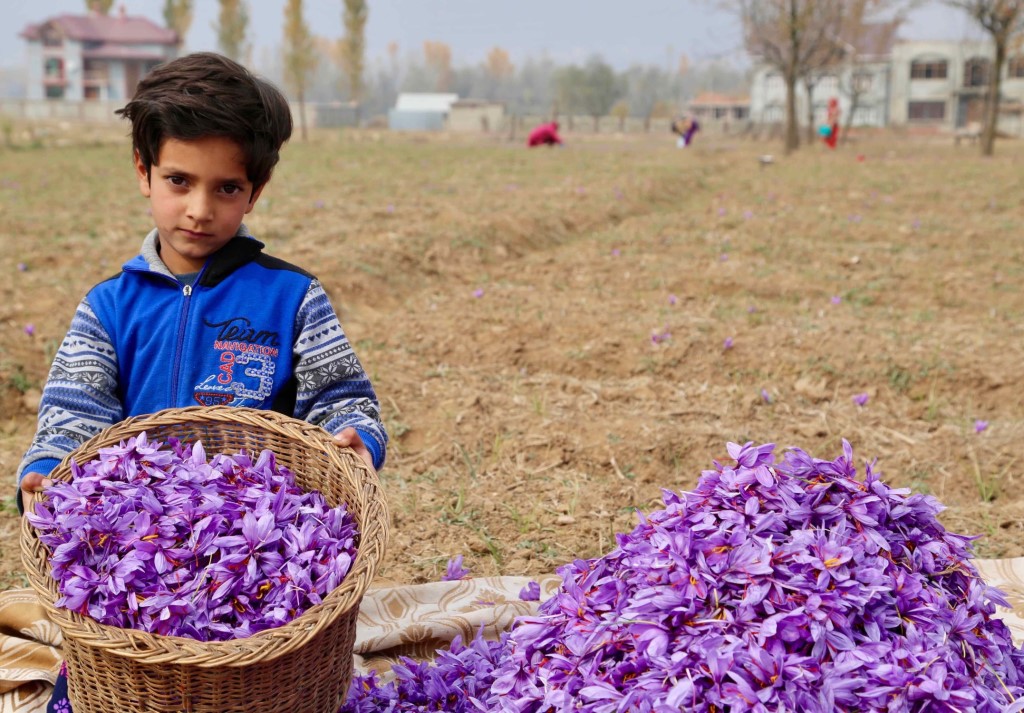 Ghulam Nabi Baba (75 year old grandfather) of Weyun Khrew belt, a veteran of Saffron cultivation in the area, commands lot of respect, goodwill, name and fame for his novel methods of growing quality and quantity Saffron. Every one from the area is impressed and inspired by his share grit and determination since 40 years back when he decided to grow the Saffron instead of rice and maize in the same fields. He took the chance and plunged into the new farming then results were astoundingly progressive, encouraging and comprehensive with great economic upsurge and prosperity. Saffron brought the fortunes and the riches changed the lives. Everyone from the village imitated his success and started developing in leaps and bounds. Besides economic uplift, education and modern facilities became the order of the day, moderate homes turned into mentions and farmlands turned into goldmines forever.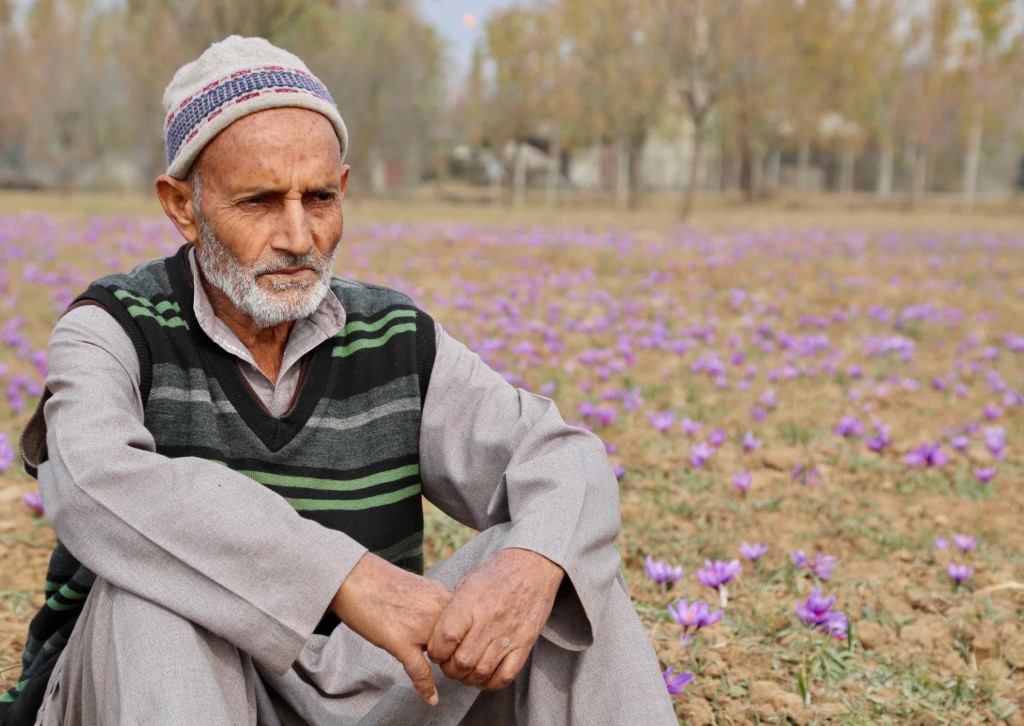 However, in a single night between 2nd and 3rd November 2018, everything changed, today after 45 years of good times both the farmers are under threat from climate change and erratic weather caused the untimely snowfall, droughts, lack of required rains, hence changed the course of farming, fortunes and now the lives. Living crossroads.
Director: Jalal Ud Din Baba
Photograph Courtesy- Jalal Ud Din Baba
https://pixabay.com/